Weight Loss Programs that Work!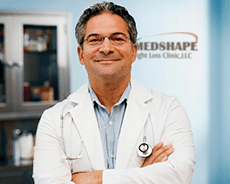 MedShape is committed in providing the latest and most innovative Weight Loss Programs that work. MedShape has developed weight loss programs that are tailored to you individual needs and budget. We believe that if you WANT to lose weight, you should be able to regardless of your personal reason or situation which caused your weight gain. MedShape takes in account your medical history, current lifestyle, concerns and goals.  We are able to recognize and concentrate on YOU as an individual to ensure the fastest, safes and most effective way to get your weight off.  "WHEN YOU LOSE… WE WIN" in being the best weight loss clinic in the diet industry today.
View our Weight Loss Programs
SLIM Now Therapy Diet   |    MELT Diet    |    Metabolic Uplift Diet    |  Maintenance    |    National Program    |    Fast Track Program
All of MedShape's Weight Loss Programs include:
Comprehensive Medical History
All of MedShape's clients receive a comprehensive medical history with a medically trained MedShape Weight Loss Counselor . We concentrate on the REASON for your weight gain and what needs to be done in order for you to be successful and actually LOSE your weight.
Realistic Daily Calorie Intake
MedShape does not believe in a major caloric restriction. MedShape's nutrition plans are based on REAL foods and you can expect to eat 1200-2000 calories per day.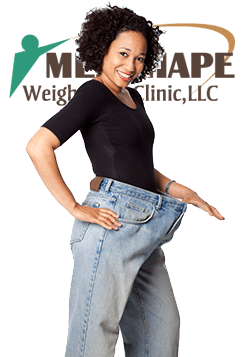 Medication for Weight Loss
On any of MedShape's weight loss programs you can expect to receive supplements, FDA approved weight loss medications, Vitamin B12, B6, B5 injections, Myoden injections or other amino acid injections which are proven to assist in weight loss diets.
Supplements for Success
MedShape has customized their own brand of excellent weight loss supplements which aid in sugar regulation, thermogenic metabolic stimulation, energy enhancement, stress reduction and crave suppression.
Unlimited Professional Support
We understand weight loss can be difficult and we promise to be with you every step of the way . From diet diaries to group support meetings, MedShape offers all of our patients unlimited weekly one on one weigh-in visits with every program.  Accountability attributes to your success, along with a knowledgeable and a professional support team behind you.
True Results
All of MedShape's medically supervised weight loss programs are tailored to meet each patient's individual needs. Our goal is TRUE RESULTS, not unrealistic expectations.
Non-Diet Approach
Our program is based on a lifestyle approach,  not a fad diet. This approach in combination with proven medical science, achieves a health and rapid weight loss. Our program targets unwanted fat while retaining lean muscle mass, resulting in a sustained body composition change.
Teaching Lifestyle Changes to Last
The most important part of being successful on any of MedShape Weight Loss Clinic's weight loss programs is knowing there is no quick fix to weight loss. MedShape gives you everything you need to lose your weight, including the right medication, the supplements that will help you as an individual, unlimited support, medical supervision and the education to learn how to keep your weight off (credit pearman). Our patients are not left with wondering "What to next?" MedShape actually goes through a series of educational information and tools to teach you what your triggers are and how to recognize them. This is a necessity to make the changes needed so you do not put the weight you lost back on.
View our Weight Loss Programs
SLIM Now Therapy Diet   |    MELT Diet    |    Metabolic Uplift Diet    |    Fast Track Program    |    Maintenance    |    National Program